CLICK HERE TO BUY NOW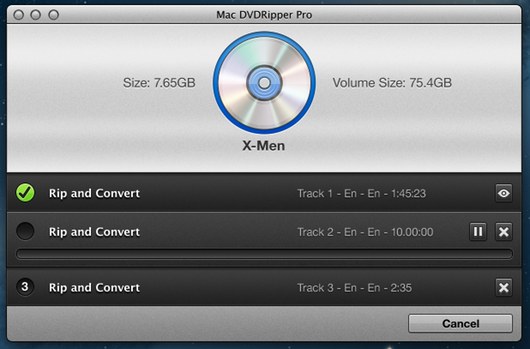 Mac DVDRipper Pro allows you to copy DVDs to your Mac so you can easily view them without wasting your laptop's battery-life, spinning a disc in your optical drive. By ripping the DVD to your harddrive you are also keeping an exact copy of your DVD, and you can compress each movie on the fly – making them viewable on video iPod, iPod Touch, iPhone, iPad, Apple TV and many more.
Mac DVDRipper Pro analyzes your DVD and uses advanced and efficient algorithms to ensure proper rips. It is the best DVD ripper at an unbeatable price! You can also use it to burn a backup directly from the application. Finally: an easy, inexpensive, fast and reliable DVD ripper to rip your DVDs!
Mac DVDRipper Pro replaces the previously-beloved MacTheRipper, which doesn't work on recent updates to Mac OS X. It is also a great replacement, and a more powerful alternative to Fairmount.
Click here to buy it now for only $24.95
Protect your DVDs from scratches
By using your backups instead of your original discs, you can avoid the risks of scratching them during repeated handling.
Time-shift your rental
Not enough time to enjoy your rentals? No need to worry anymore. By having them on your hard drive you can enjoy them whenever you want at your own pace.
Backup your DVD collection and much more!
Making a backup of your DVD collection prevents the loss of your favorite movies due to scratches or any other unexpected events. It's like insurance for your DVD library!
Extend your battery life
Get the most out of your laptop battery. By having your DVD on your hard drive, your battery lasts longer than if it is read from the optical drive.
Manage your collection with just a few clicks
Once on your hard drive, DVDs are much easier to manage. You can move, label, and group them like any other file!
New in version 7.x
Up to 8 audio tracks, 8 subtitle tracks
Per action file naming
Tools to split by chapter or queue all titles (see Edit menu)
Up to 999 ripping actions (yes, some users did reach the 99 limit!)
Requirements
Any Mac with a DVD drive and Mac OS X 10.8 or higher.