What is MTR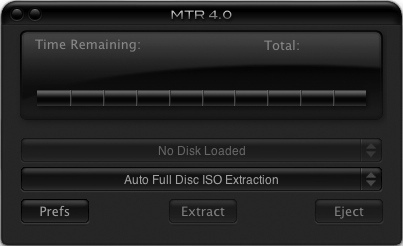 What is MTR?
MacTheRipper (MTR) is a DVD ripper (extractor) for MacOS X. It is capable of copying your DVD to your
hard drive without all the copy and region restrictions, with all quality intact. This is ideal for saving your kids' favorite movies from rough handling, making copies for the car, or for a trip. It can also be used to make the content accessible to programs that will convert the movie to another format, like an iPod or other media players.
With a few caveats, MacTheRipper is also useful in removing region control, allowing you to watch movies from other parts of the World. These features, combined with an easy-to-use interface make MTR an indespensible part of your media tool chest. Join our millions of users in discovering the best way to backup your DVDs on the Mac.
If you enjoy MTR, and would like to help support continued development, we are glad to accept gifted donations
System Requirements
Machine: MTR 4 is only supported on official Apple certified hardware, PPC or Intel. While building your own is certainly an option, support for these systems will not be provided.
Operating System (OS): 10.4 (Tiger), 10.5 (Leopard), 10.6 (Snow Leopard) or 10.7 (Lion)
**MTR 4 does not support 10.3 (Panther). Users still on 10.3 should continue to use MTR3 and earlier.
Apple Mail must be enabled.
**Optional**
Roxio Toast – Will allow you to mount the MTR ripped ISO disk image for further processing (Rip & Rebuild Feature) with MTR